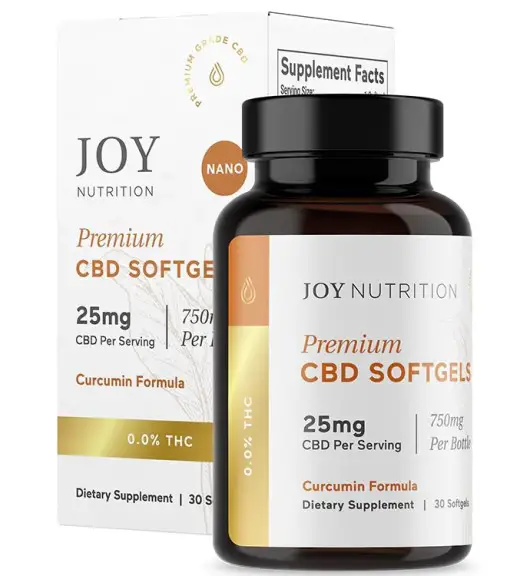 How I'm using Joy Organics CBD softgels for pain and better sleep
By Jason Wooden, PhD | June 30, 2022
We review products we think are helpful for our readers.  If you buy through a link on this page, we may earn a referral fee at no additional cost to you.  More
My quest for better sleep with fewer pain meds

For me, it all started back in 2019 when I begin to experience nagging pain in my shoulder and neck that just wouldn't go away.
Eventually, it got so bad I couldn't do everyday things like making dinner, household chores, or driving a car.  What's worse was that it made it almost impossible for me to sleep at night.
If any of this sounds familiar, you should know that there are over 100 million people in the US alone who suffer from chronic pain, many of them often have sleep issues.
Fortunately, I was able to get things more manageable with the help of a great pain specialist and some serious lifestyle changes.
However, after a year of popping pain meds to help me sleep at night, my doctor shared concerns with me about the health risks of using them as a long term remedy.
The downsides include bleeding, liver, kidney, and heart issues.
For the more powerful pain killers, there's also the risk of addiction and over time you need higher amounts to get the same effect.  Some may eventually make you more sensitive to pain.
My doctor urged me to wean myself off of them as soon as I could which meant I needed pill free alternatives for pain management at night.
Since then, I've been taking a holistic approach – physical therapy, dietary changes, exercise, and therapeutic massage.  Thankfully, it's helped.
I've been able to wean myself off of most of the pains meds I was using to get sleep except for one.  I had tried now and then to see what would happen but would chicken out after a rough night.
So, that's why I've been on the lookout for other things I can add to my medicine cabinet to use as needed.
I had been hearing about CBD lately.
I figured it was time for me to give it a try.
And that's what led me to sharing my experience with Joy Organics CBD.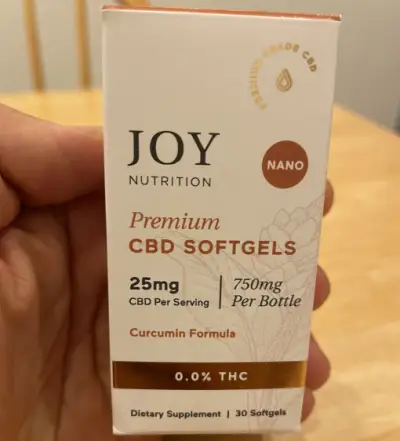 For starters, CBD is not what some people think it is.
Yes, along with THC, it's one of the better known active substances derived from the cannabis plant.  However, even though both are cannabinoids, they interact with the brain in slightly different ways.
THC is the main psychoactive compound that gives people a "high".
CBD is made from hemp, a type of cannabis plant that contains very low levels of THC. It's being looked at for a wide range of health benefits.
While there's still a lot of research to be done, the evidence is growing showing the benefits of CDB for managing pain.
It's looked promising in both laboratory and clinical studies. A recent meta-analysis that combined data from 25 clinical studies also found that CBD could be helpful for pain management.
Similar to pain, there's growing evidence that CBD can help with insomnia and other sleep disorders.
And it's looking helpful for fighting anxiety too, one of the biggest challenges for sleep.
Altogether, CBD is looking promising as a natural alternative to help people struggling with chronic pain at night sleep better.
Why I decided to give Joy Organics CBD a try
The CBD industry is growing like crazy so there are many places you can get your CBD from.
Unfortunately, it's hard to know with some CBD products how pure it is and how much CBD you're actually getting in a dose.
That's a challenge if you're looking for something without the THC.
What I liked about Joy Organics CBD is that they extract the oil from organic hemp and remove the small amounts of THC using a proprietary process.  (This is likely why their product is more expensive than some others.)
Each batch is then sent out for third party testing.  You can actually see the test report for the bottle you ordered on their website.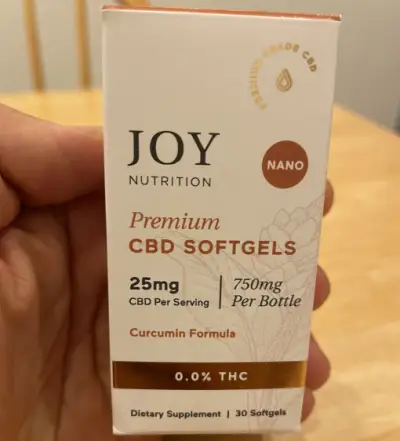 The other thing I like is that you can get your CBD with curcumin, a well known and powerful inflammation fighter which can help with fighting pain.
Finally, they've been doing this for a while and have a cool backstory.  It's a family run business that was inspired by one of the founders journey with chronic pain and CBD.
And the reviews online were mainly positive.
I was excited to see what the Joy Organics CBD curcumin formulation could do for me.
I decided to try out their CBD softgels with curcumin for a couple of weeks
I should say I first checked with my pain specialist about trying out CBD and got the green light.
My CBD softgels arrived conveniently in the mail.
Each capsule contains 25 mg of CBD and 10 mg of curcumin.
I decided to start with the minimum suggested use, 1 soft gel.  So, after removing the safety seal, I downed it with some water about an hour before bedtime.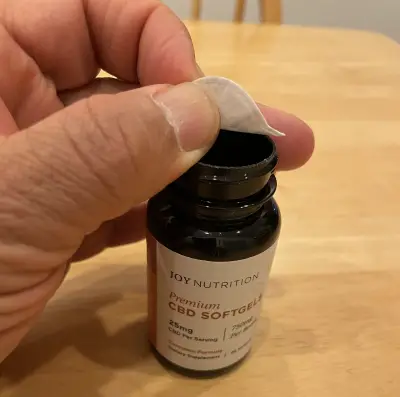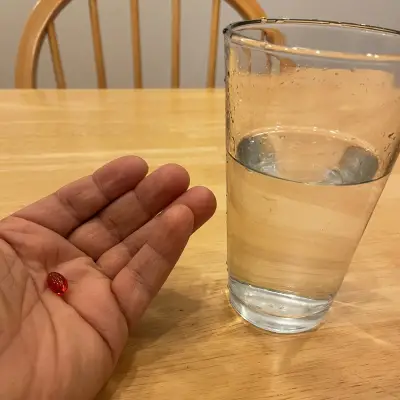 (I'm not sure how much of a difference this made but since it was my first time I was hoping to get the maximum benefit at night.)
I should also say that I didn't take the prescription med I had been using for over a year.
That night I found that my neck and shoulder pain was sufficiently kept in check allowing me to get some decent sleep.  What was exciting is I was doing it without any pain meds.
(I had tried unsuccessfully to wean myself off the last the pain med in the past so wasn't sure how things would go.)
I decided to up my dose to 2 soft gels and found that worked better for me.
After a couple of weeks, I wanted to see how things would go if I didn't take anything.
No CBD, no prescription meds,…just me and the pillow.
To my surprise, I was able to still get some decent sleep.  That's a first for me in a long time.
And to be clear things are not 100% back to normal for me – the pain hasn't magically disappeared.  However, my nights are manageable.
I now only use a pain remedy at night if I have a significant flare up.
I'm still doing all the other recommended things for pain management – exercise, dietary changes, and proper pillow support.
However, I can say that CBD helped calm things down to the point that I was finally able to wean myself off of nightly prescription pain med use.
I have found another natural pain remedy to take as needed to help me sleep at night.
And I can save the over-the-counter and prescription pain meds for when things are more serious.
My verdict: It's worth the money

As I mentioned earlier, it's still a bit of the wild west out there for the CBD industry.
Again, the things I liked about Joy Organics CBD are:
It's natural and organic
It's THC free
I can get it with the added benefit of curcumin
It's laboratory tested by 3rd parties and certified so you know what you get
They have a 30 day return policy
They're more expensive than some of their competitors but I'm a big believer in you get what you pay for.  I wanted something that was high quality and THC free.
One thing I do wish is that there was more specific guidance for newbies like me about the best ways to take it.
Does it really matter what time you take it?  Is it better to take it with food?  I'm guessing as more research is done for specific health benefits these questions will be answered.
Nonetheless, I'm excited to have another pain management option that's natural.
Given how big of an issue chronic pain at night is for millions of people, Joy Organics CBD is worth a try and worth the money.
Joy Organics CBD softgels are currently available to persons 21 or older in the US directly on their website: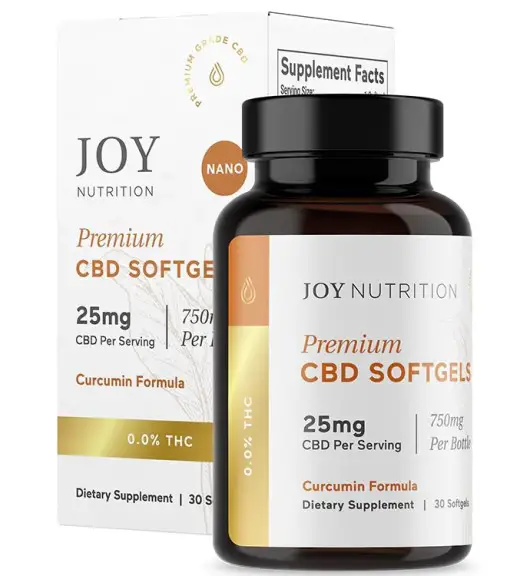 Something important to keep in mind when trying out a natural active such as CBD is that it hasn't been as well-researched as pharmaceuticals.  Consequently, there's less known about side effects and possible interactions with other substances such as medications.
If you decide you want to try it out, it's a good idea to check with your doctor first, especially if you're dealing with specific health challenges and taking other medications.
Everyone's situation is different.  A doctor can make sure it's not interfere with any other meds you're taking or cause complications.  Also, switching cold turkey from a pain med to CBD may not be best for you.
You can also check with an alternative medicine practitioner such as an herbalist or naturopathic physician.  They can advise you as to the best dosing for you and any safety issues.
So, based on my experience, I encourage you to:
Consult with your doctor
You can check with an alternative medicine practitioner if your doctor isn't familiar with CBD's use
Use a reputable brand like Joy Organics
1. Institute of Medicine of the National Academies Report . Relieving Pain in America: A Blueprint for Transforming Prevention, Care, Education, and Research. Washington DC: National Academies Press; 2011.
2. "Hidden Dangers of Over-the-Counter Pain Relievers", 2021, AARP website
3. "5 ways opioids and their negative side effects make pain your pain worse", HealthPartners
4. "A comparison of CBD and THC", 2019, MedicalNewsToday
5. "Research shows pain relieving effects of CBD", 2021, ScienceDaily
6. Cannabidiol use and effectiveness: real-world evidence from a Canadian medical cannabis clinic. Journal of Cannabis Research volume 3, Article number: 19 (2021)
7. Effects of Cannabinoid Administration for Pain: A Meta-Analysis and Meta-Regression. Exp Clin Psychopharmacol. 2019 Aug; 27(4): 370–382.
8. Cannabis, Cannabinoids, and Sleep: a Review of the Literature. Curr Psychiatry Rep. 2017 Apr;19(4):23.
9. "CBD as a Sleep Aid", 2022, sleepfoundation.org
10. Cannabidiol: A Potential New Alternative for the Treatment of Anxiety, Depression, and Psychotic Disorders. Biomolecules. 2020 Nov 19;10(11):1575.
11. Medical Fraud, Mislabeling, Contamination: All Common in CBD Products. Mo Med. 2020 Sep-Oct; 117(5): 394–399.
12. Curcumin: A Review of Its' Effects on Human Health. Foods. 2017 Oct; 6(10): 92.
About Us

Better Sleep Simplified® was founded as a place for you to get clear and well-researched information.
Our goal is to make sure you know about your options so that you take action sooner rather than later.
Sleep Checklist 
Find out what you're doing right and what to change
Sleep Library: 
Watch and Learn

Hear from experts, sleep specialists, people with insomnia, and others
Affiliate Disclosure
This site is a participant in the Amazon Services LLC Associates Program and other affiliate advertising programs designed to provide a means for sites to earn advertising fees by advertising and linking to them.
Important:  BetterSleepSimplified.com is for informational purposes only and is not intended or implied to be a substitute for professional medical advice, diagnosis, or treatment.  Always consult a physician for sleep and health concerns.  See additional information.