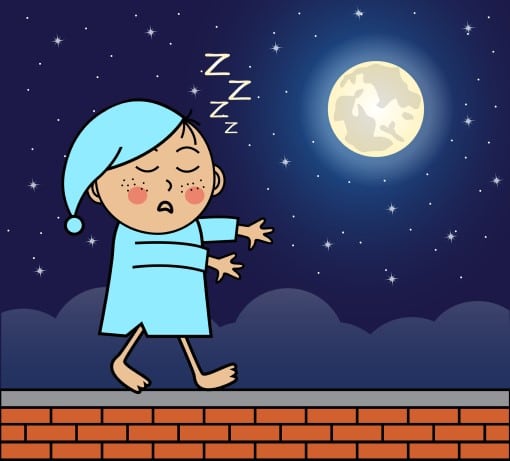 Sleepwalking prevention devices: 5 worth a try for easier nights
By Jason Wooden, PhD | Updated July 2023
Over 8 million in the US and 7% of individuals worldwide sleepwalk which can put themselves and others at risk.   Fortunately, there are a variety of sleepwalking prevention devices designed to sound a alert when they get out of bed or to provide a simple barrier.
Your choices include gates, safety door locks, bedroom door alarms, motion sensors, and floor mat alarms.  It's also important for sleepwalkers to get regular sleep and avoid known triggers.
In this article, we'll talk about:
Getting a sleepwalking prevention device may be more important than you think
As a parent of a former sleepwalker, I totally get why you're looking for answers.
And it's no surprise you're curious about sleepwalking prevention devices since people have been known to do some of the most outrageous (and worrisome) things while asleep.
Maybe you've been awakened at night to find a spouse doing something odd in the kitchen and the following morning they have no memory of it.
Or perhaps, you have a child who gets up at night, shuffles into the hallway, and mumbles incoherently about random things…
Whether it's an adult or a child, sleepwalking is a serious issue because they can unknowingly harm themselves or others.
Did you know that over 8 million people in the US are prone to sleepwalking?
Worldwide as many as 7% of individuals sleepwalk.
It's more common in children than in adults.  In fact, close to 20% of kids in the 8 to 12 year old range are affected by it.
Nonetheless, sleepwalking from your bed to sleep on a couch downstairs is one thing, but what about someone who leaves the house?
And what about the stories of people sleepwalking to a kitchen and handling dangerous objects like knives?
From personal experience, I know how unnerving this can be.
It can ruin your sleep for sure if you're on edge worried about what's going to happen.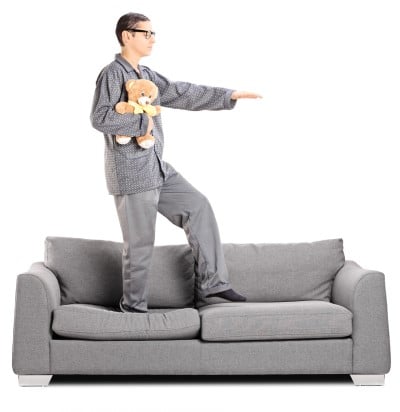 Before we get into the sleepwalking prevention devices, let's talk about what we know.
Sleepwalking, also known as somnambulism, is when someone walks or does other complex things while asleep.  It's an unusual state between wakefulness and sleep.
Normally, you go through different stages which include cycles of non-REM and REM sleep.  Non-REM is where deep sleep occurs.  In sleepwalkers the brain is triggered to rouse the body while still in a deep sleep.
The reasons this happens is not fully understood but some of the known risk factors and triggers are:
Genetics – it tends to run in families
Poor sleep – you're more likely to sleepwalk if sleep deprived
Stress and anxiety – can be from life changes or other things going on
Changes – travel, sleeping in unfamiliar surroundings, too much noise or light
Other health issues – fevers, asthma, acid reflux, migraine headaches, underlying sleep disorders like sleep apnea, and other health issues
Mental health challenges – people with dealing with issues such as depression, neurological disorders, obsessive-compulsive disorder, panic attacks, or posttraumatic stress disorder have an increased risk
Alcohol – heavy drinking can increase your risk
Medications – Some meds may trigger sleepwalking in patients including antidepressants, antipsychotics, and beta-blockers
Sleepwalking prevention devices

Okay, if you're thinking about trying out a sleepwalking prevention device, the thing to keep in mind is that they don't directly treat sleepwalking.
Instead, most work by sounding an alert when someone is out of bed or as a physical barrier to keep them from wandering away.  Your options range from low-tech no-frills remedies to more sophisticated electronics.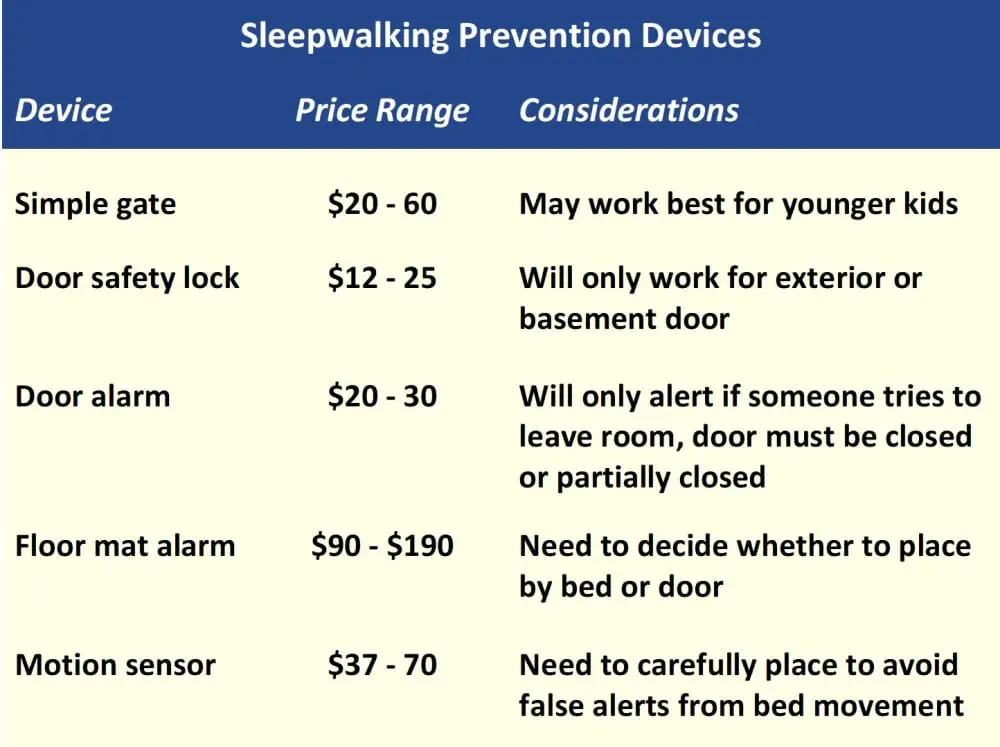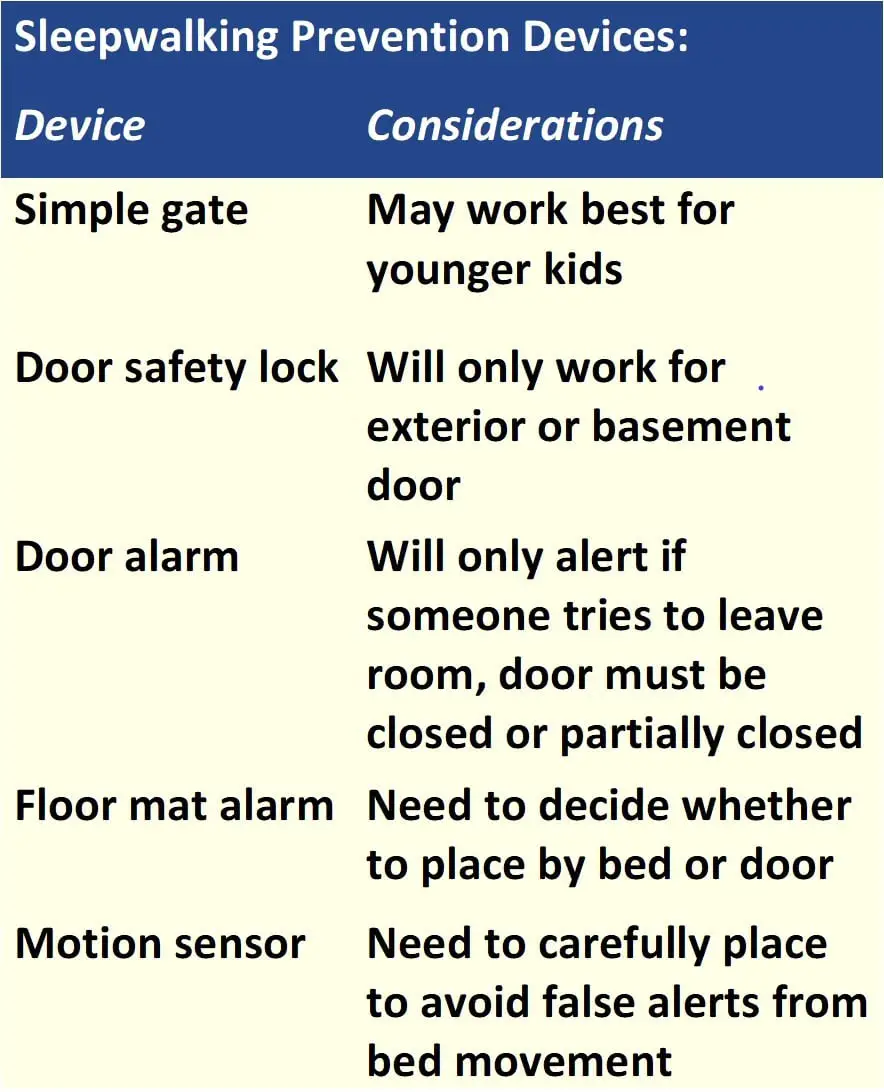 As you consider the various options, a couple things to think about:
For alerts, who do you want to hear it, the sleepwalker or someone else?
Do you prefer a soft or loud alarm?
Do you need a quick low fuss setup or are you willing to spend the time needed to fine tune a more sophisticated device?
Some may work better for a kid than an adult
Depending on your specific situation, some options may work better for you than others, so don't be afraid to experiment.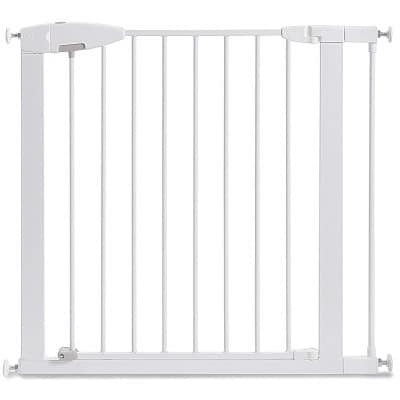 1) Simple gate

How it works:  physical barrier
Price range:  $20 – $60
Pros:
– low-tech
– durable
– easy to set up, adjustable
Cons:  may work best for younger kids
Regalo extra wide walk gate
VIDEO:  safety door gate overview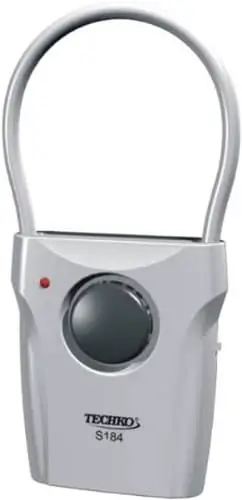 2) Door alarm

How it works:  makes a noise if bedroom door is opened
Price range:  $20 – $30
Pros:  variety of options
Cons:
-will only alert if sleepwalker attempts to open door and leave room
-may be too loud for some depending on the device
-alert may wake up everyone
-door has to be closed or at least partially closed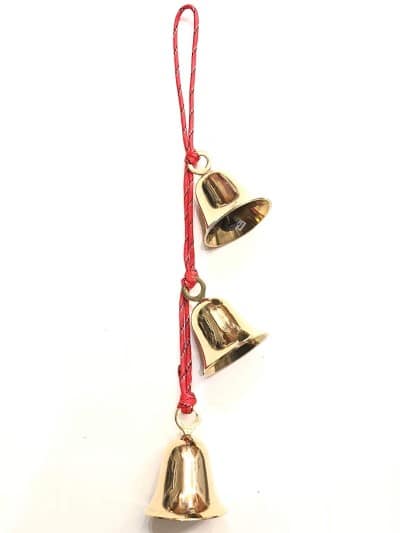 Simple bells to hang on door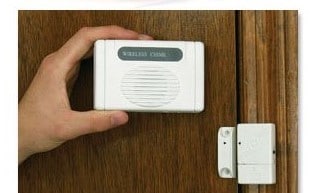 Safeguard wireless door alarm with portable receiver
Your content goes here. Edit or remove this text inline or in the module Content settings. You can also style every aspect of this content in the module Design settings and even apply custom CSS to this text in the module Advanced settings.
VIDEO:  Portable door sensor alarm
3) Door safety lock

How it works:  prevents inward swinging exterior or basement door from opening
Price range:  $12 – $25
Pros:  low tech, durable
Cons:
– will not work for bedroom door
– requires install
VIDEO:  Door Guardian safety lock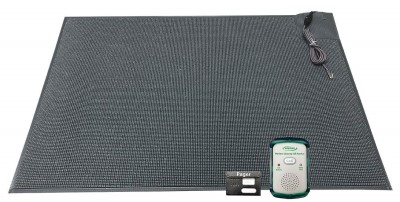 4) Floor mat alarm

How it works:  alarm triggered when sleepwalker gets out of bed and steps on mat
Price range:  $90 – $190
Pros:
– easy set-up
– adjustable volume for some models
– remote pager for some models
– can position by bed or door depending on preference
– durable
Cons:
– alert may wake up everyone
– monitor is connected to mat with cord and placed nearby
– battery-operated
– some devices are always on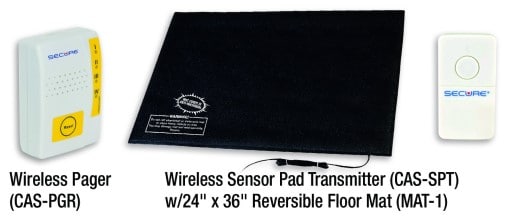 Secure Caregiver Alert System, remote alarm pager

VIDEO:  wireless/cordless floor mat alarm system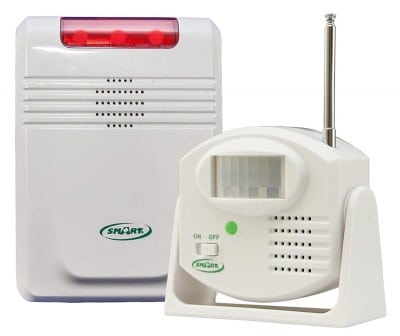 5) Motion sensor

How it works:  detects movement and sounds an alert
Price range:  $37 – $70
Pros:
– variety of options
– alarm volume
– adjustable for some
– portable monitors
Cons:
– alert may wake up everyone
– must be carefully placed to prevent false alerts from movement in bed
– battery changes required
VIDEO:  Motion sensor for wandering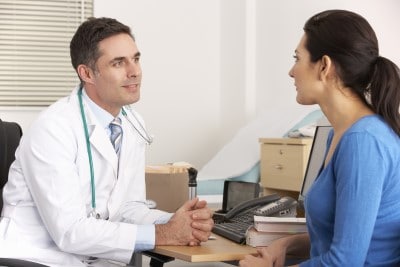 What else can I do beside sleepwalking prevention devices?

Sleepwalking prevention devices can be useful and make for better nights, but they shouldn't be the only thing you do.
Since we know quite a bit about risk factors and triggers for sleepwalking, it's important to address them as best you can.
Safety measures

You may need to adjust your living space to prevent an injury.  This can include relocating objects a sleepwalker can trip on or otherwise hurt themselves.
You may also need to block stairways and doorways with a gate, lock doors and windows, secure car keys, keep dangerous objects out of reach, or attach a bell to a door to sound the alarm.
Get regular sleep

Since being overtired is a known trigger, it's important to get adequate sleep every night.  Start with improving your sleep hygiene which is everything you do during the day, evening, and at bedtime that can set the stage for quality sleep.
For better sleep hygiene, you should:
-maintain regular wake up & sleep times
-avoid naps
-avoid stimulants such as caffeine before bedtime
-maintain a bedtime routine
-keep your bedroom quiet, dark, and cool
See a sleep specialist

Did you know that an underlying sleep disorder could be causing sleep problems?  A sleep doctor can check for things like sleep apnea or other sleep disorders linked to sleepwalking.
They will also check for other health issues linked to poor sleep and sleepwalking.  This include things like asthma, fevers, heartburn, and heart problems.
Finally, they'll check for medications linked to poor sleep and sleepwalking.
Stress management

There's lots you can do to help manage stress – lifestyle changes, aerobic exercise, and relaxation exercises.  Getting regular sleep will also help.
Anticipatory awakening

This involves waking up someone about 15 minutes before they usually sleepwalk.  The person then stays awake for a few minutes before falling asleep again.
Counseling

A mental health professional such as a psychotherapist can help figure out ways to lower stress and anxiety.
Meds

In some cases, a doctor may prescribe medications such as benzodiazepines and anti-depressants.
Avoid alcohol

Since alcohol may trigger sleepwalking, limit your consumption during the day and avoid drinking before bed.  Another reason to avoid alcohol at night is that affect the quality of your sleep.
Have you spoken to a doctor yet?
The US National Institutes of Health recommends you seek help for sleepwalking that's frequent or persistent, when there are other symptoms, or if dangerous activities accompany sleepwalking.
5 things to remember about sleepwalking prevention devices:
Sleepwalkers can put themselves and others at risk
Some devices work as a physical barrier
Other devices give an alert when someone leaves a bed or room
You should get regular sleep
You should also avoid other sleepwalking triggers
You may also be interested in:
"Sleep Walking: Facts, Causes, Symptoms & Treatment", American Sleep Association website (source)
"Preventing Sleepwalking: Scientific Findings to Help Stop a Chronic Sleepwalker", 2018, Amerisleep website (source)
"Do Prescription Sleep Medications Cause Sleepwalking?", 2015, Psychology Today (source)
Medication induced sleepwalking: A systemic review, 2018, Sleep Med Rev 37:105-113. (source)
Prevalence of Sleepwalking: A Systematic Review and Meta-Analysis, PLoS One. 2016; 11(11): e0164769.  (source)
What is sleepwalking?, 2020, Academy of Sleep Medicine website (source)
Sleepwalking, MedlinePlus (source)
About Us

Better Sleep Simplified® was founded as a place for you to get clear and well-researched information.
Our goal is to make sure you know about your options so that you take action sooner rather than later.
Sleep Checklist 
Find out what you're doing right and what to change
Sleep Library: 
Watch and Learn

Hear from experts, sleep specialists, people with insomnia, and others
Affiliate Disclosure
This site is a participant in the Amazon Services LLC Associates Program and other affiliate advertising programs designed to provide a means for sites to earn advertising fees by advertising and linking to them.
Important:  BetterSleepSimplified.com is for informational purposes only and is not intended or implied to be a substitute for professional medical advice, diagnosis, or treatment.  Always consult a physician for sleep and health concerns.  See additional information.